Products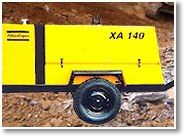 XA-140 / XA-175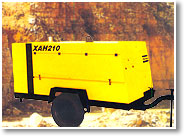 XA-210H
ATLAS COPCO-DIESEL SCREW AIR COMPRESSORS
dustry sandblasting, marble, granite, stone and quarries. They can assist in installing fibre optic cables, or be combined with combinations of pneumatic tools such as rock drills, brakes, to name a few. High altitudes and extremely high and low ambient temperatures are not a problem. Two pressure variants make these units for almost any application.
Designed to your individual needs
Atlas Copco listened to the sales force, and more importantly... to you. We understood your requirements and related accordingly by designing exactly the air compressor you want: ensuring a long lifetime, low operating cost and high resale value.
Unique Screw Profile
The unique Atlas Copco patented Screw profile gives you the added advantage of higher free air delivery at the lowest fuel consumption.
9833099690

9833453977